Featured Story
Beef Kabobs
Good quality beef is a must for this recipe, so look for top sirloin, sirloin strip or even tenderloin. The grade of beef is also a factor in tenderness, Choice USDA grade is recommended. A brand of beef "Certified Angus Beef" found in many US supermarkets, guarantees quality, tenderness and flavor---it's a good choice for this recipe!
Recipe »
Latest Video: Kiwifruit Facts – Vine to Table
A Presentation from News Canada
Summer 2016
Featured Stories
Are Recipes on the Internet Original?
A look at 5 recipes for Mac and Cheese, comparing ingredients and similar quantities.
I'm totally amazed that so many people turn to the Internet to find recipes these days but then again, if you don' t have a cookbook collection what else can you do? Hey, what are you doing---"I'm searching for a recipe to cook for dinner", or "I'm searching for a chocolate chip cookie recipe", is often heard in many households. Which one will you choose and will it be a good one is the big question! Well, providing you search on a reputable site such as Epicurious, Gourmet and a few others, including goodcooking.com, you will more than likely be happy with your selection. In your search you might wind up on Aunt Tilly's page with hundreds of recipes that she's posted---but did you know Aunt Tilly is a terrible cook?!
Full article »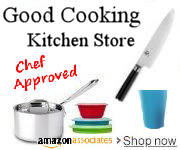 AND

Our Cheese Store...»