Convert the recipe

to another language.

Potato and Green Pea Curry
Recipe by: Chef John V., A Good Cooking Recipe!
Serving size: 4 people
Preparation time: about 1 hour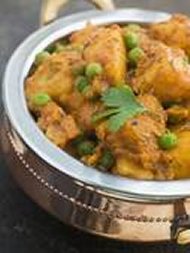 Aloo Matar or mattar is a gravy based dish prepared with onion, garlic, fennel and cumin seeds, potatoes and peas then finally garnished with fried garlic and coriander leaves

Amount/Measure/Ingredient:

1 cup onions, sliced thin
4 tbsp. clarified butter
1/2 tsp. ground fennel
1 tsp. cayenne turmeric
1 tbsp. ginger chopped
1/2 tsp. cumin, powder
1/2 tsp. hot chili---cayenne
1/2 tsp. ground cinnamon
4 cup potatoes, sliced 1/2 inch thick
2 tsp. salt
2 cups green peas
2 tbsp. cilantro, chopped
1 tbsp. thin sliced garlic---oil to fry

Preparation:

Fry onions in butter and add all the spices. Add sliced potatoes and water, season with salt, bring to a boil and simmer until tender, add green peas and simmer 5 more minutes. Check seasoning.

Fry garlic in oil to golden, spoon over potatoes in serving dish and topped with chopped cilantro.