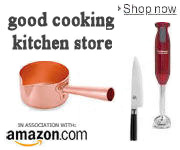 Convert the recipe

to another language.
Works in most Browsers
Pumpkin Pie
Recipe by: Chef John V., A Good Cooking Recipe!
History: What would a Fall or Winter Holiday be without Pumpkin Pie!
Description: Fragrant Island Spices Flavor a Creamy Pumpkin Custard in a Pie Crust. Pass the Whipped Cream Please!
Preparation time: about 1 hour 30 minutes, then 2 hours cooling
Serves: 8

Amount/Measure/Ingredient

1 (9 inch) unbaked deep dish pie crust
3/4 cup white sugar
1 teaspoon ground cinnamon
1/2 teaspoon salt
1/2 teaspoon ground ginger
1/4 teaspoon ground nutmeg
1/8 teaspoon ground cloves
2 eggs, large
1 (15 ounce) can canned pumpkin
1 (12 fluid ounce) can evaporated milk
Whipped Cream as much as you like

Procedure:

Preheat oven to 425 F.
Combine sugar, salt, cinnamon, ginger and cloves in small bowl. Beat eggs lightly in large bowl. Stir in pumpkin and sugar-spices mixture. Gradually stir in evaporated milk. Pour into pie shell.

Bake for 15 minutes. Reduce temperature to 350 F.; bake for 40 to 50 minutes or until knife inserted near center comes out clean. Cool on wire rack for about 2 hours. Serve immediately or refrigerate, this pie doesn't freeze well.