More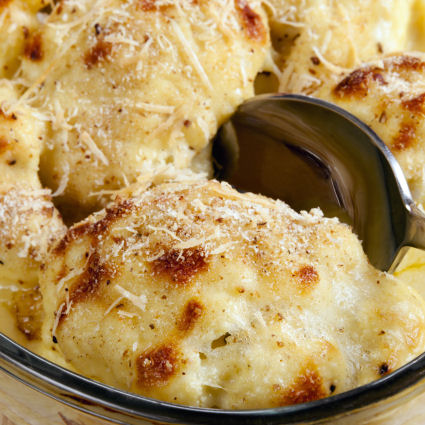 Cauliflower au Gratin

What goes around comes around! Cauliflower is all the rage these days especially Cauliflower au Gratin. Gee my mother made it when I was a kid, and that's quite a while ago. It's been a classic preparation in Europe for who knows how long. My friends from Ireland, England and France all remember eating and even cooking Cauliflower au Gratin! Some restaurants have had it on there menu as a side dish too! If you ever are in New Orleans you must go to the Bon Ton Cafe in New Orleans, where it has been on the menu since it opened in 1900. There "the traditions started by Al and Alzina Pierce continue under their nephew, Wayne Pierce, who trained under them, and his wife Debbie. Since 1967, Wayne and Debbie have guarded those traditions so well they have gained recognition of the Bon Ton by many international culinary societies and have been covered extensively in gourmet, travel and leisure publications and in newspaper columns."

The recipe below is mine, you won't find it anywhere else on the Internet, and if you do, then someone copied it from Good Cooking. What makes mine so delicious is the combination of gruyere and cheddar and the sprinkle of buttered bread crumbs and parmesan over the top just before baking.

I must admit that my version takes a bit more time to prepare. You will need to multi-task and do a few things all at once while you cook, any trained chef knows this. So if a chef can do it you can do it too! You will have very good results with this recipe and all my chef recipes on goodcooking.com, Enjoy!

Makes about 6-8 servings

(2 quarts water, 1 cup milk and about 2-3 tablespoons salt for cooking; depending if you use Kosher salt, regular salt or sea salt) The milk helps remove bitterness from the cauliflower as it cooks and keeps it white.

1 cauliflower (about 1 1/2 pounds, which is an average size head)
5 tablespoons salted butter + 4 tablespoons for buttering the baking pan
4 tablespoons all-purpose flour
2 cups milk, warmed
1 cup heavy cream, warmed
1 teaspoon salt
1/4 teaspoon ground white pepper
1 big pinch grated nutmeg
1/2 cup grated Gruyere
1/2 cup grated Cheddar

4 tablespoons fresh bread crumbs
2 tablespoons butter, melted
1/2 cup grated Parmesan

Preheat the oven to 375 degrees.

Remove the green leaves from the cauliflower, cut out the core, and separate cauliflower into florets about the size between a golf ball and tennis ball. Set up a saucepan of 8 cups of water and 1 cup of milk, then add salt---it should be salted so it tastes like ocean water---bring it to a boil. Watch the pot as it comes to a boil because it will foam up because of the milk that's in it. When it starts to foam, add the cauliflower and cook, uncovered, for about 5 minutes and a strong simmer but not a rolling boil. It's done when a fork easily pierces into the florets.

Drain and immediately cover with cold water and ice to stop the cooking, drain again and set aside.

While waiting for the water and milk to boil, melt the butter in a 4 quart saucepan and cook over medium low heat until you hear it sizzle and most of the butter is clear. Swirl and stir the pan as you go so that the whey in the butter just about disappears. Add the flour and stir it into the butter so it resembles wet sand. Cook over low heat for about 2-3 minutes, stirring with a whisk or wooden spoon; do not let the mixture brown. (You just made a white roux!) Add the warm milk, whisking it into the roux and bring to a boil over medium heat, stirring constantly to prevent lumps and scorching, then simmer over low heat for 5 minutes. (You just made Béchamel Sauce!) Add the warm cream, salt, white pepper, and nutmeg. Remove from the heat. Now add the Gruyere and Cheddar and stir them in to melt, (You just made Mornay Sauce!)

Generously butter a casserole dish or baking pan. Put the florets in the dish stem side down and be sure you don't put any of the water that they might be sitting in, in the pan and coat with the Mornay Sauce. Mix the melted butter and fresh bread crumbs together to coat, then sprinkle them and the grated parmesan evenly over the top of the Mornay Sauce and Cauliflower. Place on a cookie sheet lined with aluminum foil (if it bubbles over while baking in the oven, this will catch the drips) and bake for about 40 minutes, or until golden brown and bubbling hot.

Remove from the oven and let sit 8-10 minutes before serving.