Moist and Delicious Cornbread or Muffins, it's your choice!
Cornbread and corn muffins are delicious. Once a peasant bread, it has morphed into a barbecue favorite. Commercially produced cornbread and muffins are made with a "cake"mix or sold a a premixed batter that is scooped from a bucket. No kidding the bucket batter is used by so many bakeries and supermarkets. They can be very moist and will last a very long time staying quite fresh. You probably have enjoyed one at your local coffee shop. The ingredient list is extensive and scary! Companies like Dawn Foods and Pillsbury are just two of the many producers of scoop and bake products.
Pillsbury's Scoop and Bake Corn Muffins...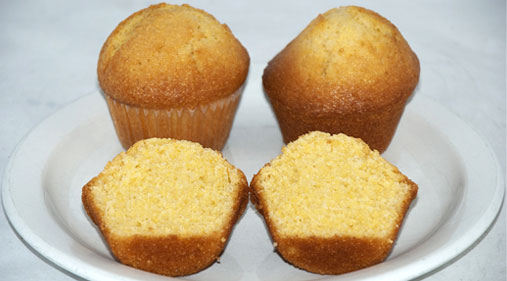 You can make a pretty good one from the back of a cornmeal container or try my recipe below.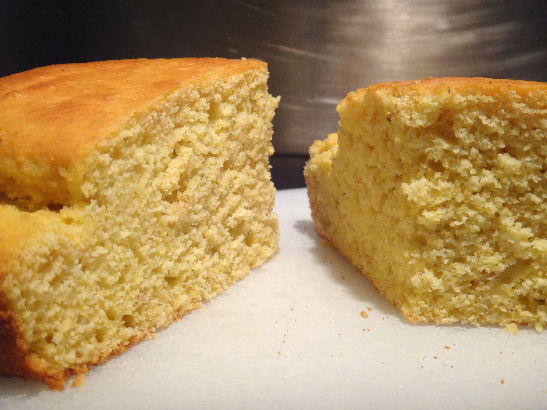 Chef John's Corn Bread

2 eggs, large
1/2 cup corn oil
1/2 cup buttermilk
1/4 cup sour cream
2 tablespoons milk
¼ cup natural sugar
4 tablespoons melted and cooled butter
2 cups cake flour
¾ cup cornmeal
4 teaspoons baking powder
1 teaspoon salt

Directions

1. Preheat the oven to 400°F and spray the wells of a muffin pan with PAM, then line with baking cups lightly sprayed with PAM.
2. Combine the eggs, corn oil, buttermilk, sour cream, milk, sugar and butter in a mixing bowl, and whisk well. Combine the cake flour, cornmeal, baking powder, and salt in a separate mixing bowl and mix to combine.
3. Add the dry ingredients to the wet ingredients and whisk until just combined; do not over mix.
4. Scoop the batter into the baking cups 3-4 to 7/8 full, and bake until golden and a tester inserted into the center comes out clean, about 20 to 22 minutes.
5. Let cool briefly, then remove from the muffin pan.

Other recipes from cornmeal producers, right from the back of the containers...

Quaker Oats
Easy Corn Bread

3/4 cup Quaker® Yellow or White Corn Meal
1 1/4 cups all-purpose flour
1/4 cup sugar
2 teaspoons baking powder
1/2 teaspoon salt
1 cup milk
1 egg, beaten
1/4 cup vegetable oil

Cooking Instructions

Preheat oven to 425° F. Grease 8-inch square pan with solid vegetable shortening or non-stick cooking spray. In a large bowl, combine corn meal, flour, sugar, baking powder and salt. Add milk, egg and oil. Beat until fairly smooth, about 1 minute. Pour batter into prepared pan and bake in preheated oven for 20 to 23 minutes, or until wooden pick inserted in center comes out clean.

Indian Head Wilkins Rogers Mills
Golden Yellow Corn Bread or Corn Muffins

1 cup Indian Head Yellow Corn Meal
1 cup all-purpose flour
¼ cup sugar
1 teaspoon salt
3 teaspoons baking powder
¼ cup oil
1 cup milk
1 egg, beaten

Corn Bread:
Preheat oven to 425 degrees. Combine corn meal, flour, sugar, baking powder and salt in a bowl. Mix oil, egg, and milk together and add to dry ingredients, mixing until batter is uniform. Bake in a greased 9"x9"x2" pan for 20-25 minutes.

Corn Muffins:
Pour corn meal batter into greased or line muffin tins, filling about 2/3 full. Bake at 425 degrees for 15-20 minutes. Makes 12 muffins.

However you make it, a must try is with a scoop or two of either Butter Pecan or Vanilla Ice Cream!!!