More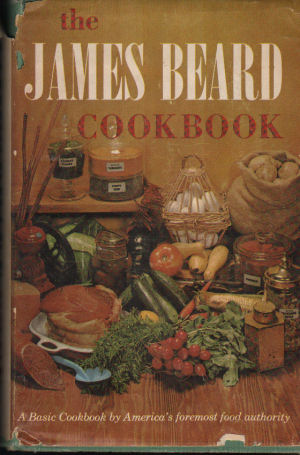 We hear about James Beard and The James Beard Foundation all the time these days. But what about James Beard, who was he and what was he like, was he a chef or a gourmand? Well perhaps some of both. He grew up in a hotel in the Pacific Northwest under his mother's guidance. As a young boy he spent a lot of time in the hotel's kitchen and experienced the smells and tastes of many a cuisine including French, German, Chinese and the regional Northwest's own. He was well traveled throughout Europe, South America, the West Indies and the United States. He settled in New York City, Greenwich Village to be exact, and was often seen in the neighborhood. Writing was one of his skills and he found himself often composing food articles for Gourmet, Vogue, McCall's, House and Garden and Woman's Day. He appeared many times on television, giving cooking demonstrations and was a veteran of radio food shows. The James Beard Cookbook was first published as a paperback in 1959 and then in hardcover in 1961. In his career he penned about 20 titles with the first around 1940. No doubt The James Beard Cookbook is the one for which he is most remembered.
In my early days of learning how to be a good cook, my mother bought it for me (and herself). It was always very helpful and gave us the inspiration to cook many new dishes but to also assure us that we were already cooking in a way that he preached. Good ingredients, good technique and patience would always result in the reward of really good tasting and properly cooked meals.
Recipes in this cookbook are classics, in most cases easy and simple, and everyone hits the mark---they don't get any better than these. Jim had a nice style of writing that's clearly evident. The way he describes the making of a plain omelet to the more complex sauce Béarnaise, gives the reader proper instruction. Whether steaming rice, making a plain pot roast or Alsatian Blanquette de Veau, a white veal stew with onions, mushrooms and cream, he gives exact directions about how it should be done. This detailed instruction is often missing in the cookbooks written today!
Wow, just think how you could make perfect tasting dishes like; Deviled Crab, Oysters Casino, Blackberry Cream Freeze, Rump Steak, Vitello Tonnato, Shish Kabob, Country Fried Pork Chops, Salad Nicoise, French Onion Soup, Asparagus a la Grecque, Lentil Casserole and hundreds more!
This is one of the best American cookbooks ever written!
It's a Good Cooking must buy/must have cookbook for any serious cookbook library.
A Recipe from this Cookbook--- Lobster Newburg page 127
Lobster Newburg
(Serves 4)
2 - 2 pound lobsters
4 tablespoons of butter
4 tablespoons of olive oil
Salt and pepper
1 cup of dry white wine
1/3 cup of cognac
2 cups of heavy cream
2/3 cup of bouillon (fish or meat stock)
Beurre Manie (page 334)

Prepare the lobster as for Lobster a l'Americaine (page 125). Heat the and oil together in a large kettle and add the lobster pieces, Using tongs, toss them about until the shells turn red and the meat is seared. Season to taste with salt and pepper. When the shells are red, remove the lobster pieces and put them on a hot platter. Add the wine and cognac to to the kettle and boil it rapidly until it is reduced to half its volume. Add the cream and the bouillon---any court bouillon in which you have fish or shellfish, or a meat bouillon. This latter can be made with hot water and a bouillon cube. Add the lobster pieces, cover the kettle simmer gently for 30 minutes.

Remove the lobster and take the meat out of the shell. Place the meat in a deep dish. Let the sauce cook down a bit and thicken with the Beurre Manie. Taste for seasonings and pour over the lobster.

Variation: Quick Lobster Newburg can be made by adding cooked meat to Rich Cream Sauce (page 335) flavored with cognac.